Eötvös Loránd University
Eötvös Loránd University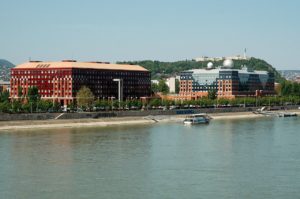 Eötvös Loránd University (ELTE) was founded in 1635. Based in Budapest, it is the largest and the most popular higher education institution in Hungary. As the leading research university in the country, the name of ELTE means knowledge, opportunities, competition, openness and community. It has always considered high-quality research the guarantee of quality in general.
Research activities at the eight faculties are exceptionally diverse, covering nearly all scientific fields including natural and life sciences, informatics, humanities, educational sciences, law and social sciences. ELTE not only offers first-class education to the international community, but it is also a place where excellent research is undertaken. Research at ELTE is characterised by international collaborations, interdisciplinary approaches, modern laboratory infrastructure, and innovation. Our researchers run cutting-edge projects funded by the European Union and national institutions. Along with international partners, our research groups also establish strong connections with the industry.
In the past years it has been a central purpose of the university to maintain and promote the diversity of the research portfolio, while it has become increasingly common that our scholars focus their work on specific subjects relating to international trends and current social challenges. The quality and quantity of research is well reflected in the programs of the doctoral schools, covering a broad spectrum of the sciences. The number of highly qualified supervisors in the doctoral schools is also outstanding.
In 2017 EIT Digital Budapest has become a full Node of EIT Digital European Knowledge Community and ELTE is a key partner in this consortium.  ELTE is the pan-European coordinator of the Security and Privacy programme.
Since 2019 ELTE participates in the European Universities Initiative as a member of the alliance CHARM-EU.
Services of the Brussels office
Participation in events, meetings and activities in Brussels and providing information to researchers
Development of partnerships and collaborations
Monitoring trends of EU research, development and innovation policy
Dissemination of ELTE's main research activities and results
Recommendation of successful examples and good practices in the EU as an inspiration and motivation