Freie Universität Berlin
Freie Universität Berlin
Founded in 1948, Freie Universität Berlin (FUB) is a full comprehensive university with an extraordinary array of disciplines ranging from the humanities to natural sciences and medicine. Its 16 departments and central institutes offer over 150 high quality degree programs, thus providing a stimulating study and research environment for 31.500 students, 4.400 PhD students and 491 professors.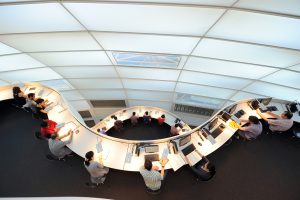 Freie Universität is one of the eleven German universities to have been awarded the rank of University of Excellence in the national Excellence Initiative in 2012. The latest ranking by the Times Higher Education (THE) magazine places Freie Universität 88th amongst the most highly regarded universities in the world. It is also ranked as one of the five most prestigious universities in Germany and 23rd in Europe.
Since its creation, a strong international orientation has been one of the university's most distinct features. It is a seat of learning and research which enjoys international recognition and strong connections around the globe. The university currently maintains more than 100 international partnerships, along with 330 university partnerships within the Erasmus academic exchange network and 45 institute partnerships. Academics from 130 different countries are involved in undergraduate, graduate, and doctoral studies and in teaching activities at Freie Universität. To underline its international commitment, FUB maintains seven offices abroad, one of them being located in Brussels.
Services of the Brussels office
Assist scientists and academics in networking with colleagues from other European universities and research institutions for joint activities
Bring researchers of Freie Universität Berlin together with European policy makers
Increase the visibility of Freie Universität Berlin in Brussels and Europe
Support the local Alumni network