Aix-Marseille Université (AMU)
Aix-Marseille Université (AMU)
Aix-Marseille Université (AMU) is a research-intensive university of international standing, yet deeply rooted in its territory. In 2016, it was granted the national ''Initiative of Excellence'' label. Its reputation enjoys wide recognition and I am proud of our collective achievements. The university has successfully faced up to all the challenges it was confronted to in 2012, the year of its creation. We will now pursue our ambition with the same boldness in the service of research, education and innovation — in one word in the service of progress.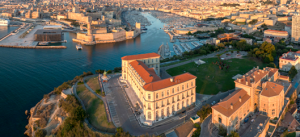 Every day, we are building new partnerships with socio-economic players in order to foster innovation and the integration of our graduates into the world of work.
Our new educational offer is based on three main pillars: interdisciplinarity, dual curricula and an international perspective.
Our international strategy enables our community to have a strong presence on all continents, with a specific policy focusing on the "North Mediterranean transnational campus". Indeed, our Mediterranean mooring is a key facet of our identity and one of our driving strengths.
AMU is a major player in its territory and contributes to its reputation. Our campuses extend over four "départements" and meet stringent international standards. They offer modern and attractive facilities to more than 78,000 students and 8,000 staff. Our strategy regarding land and building management is in constant evolution, notably with the on-going devolution of state real estate assets and the new energy issues we want to address. The university's societal responsibility clearly appears in its commitments to promote sustainable development, to integrate physically-challenged staff and students, and to fight against all discriminations. Our everyday goals also include the improvement of students' living conditions through access for all to health care, culture and sport, and helping to develop associative life.
AMU is a robustly-structured university where fostering our community spirit among staff and students is a priority.
Services:
• Lobbying (Information on EU funding programmes, communication, public relations)
• Development of partnerships and collaborations
• European strategy of the university
• Presentation of AMU activities (education, research and innovation interests)