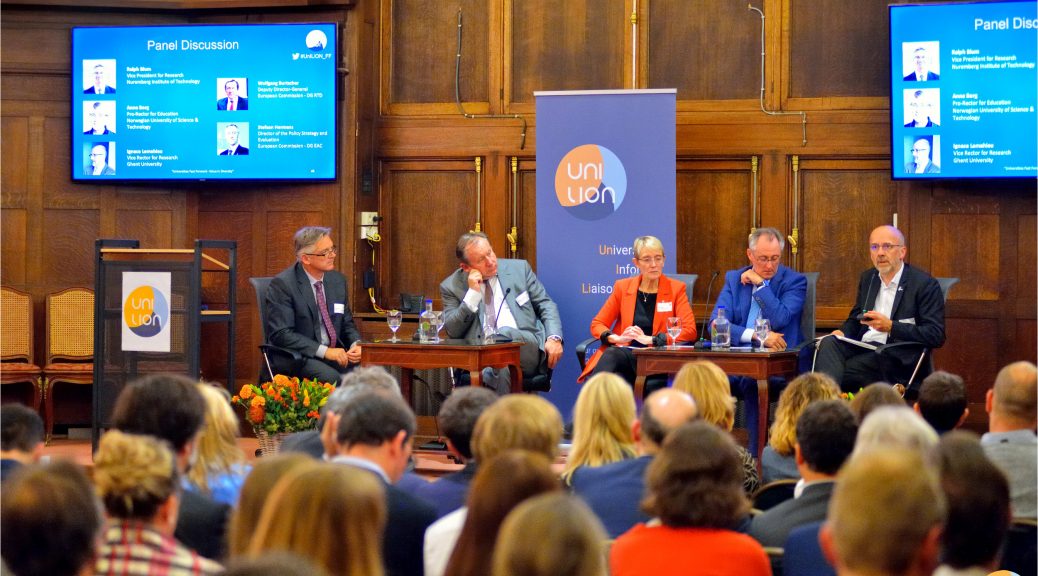 UnILiON official launch event brings together more than 120 participants
UnILiON official launch event brings together more than 120 participants
UnILiON organised its launch event on 16 October, at Foundation Universitaire premises, in Brussels. The "Universities Fast Forward: Value in Diversity", moderated by Science|Business managing director Maryline Fiaschi, was the first event in a new, yearly series organised by UnILiON, an informal network of over 40 liaison offices representing more than 130 excellent universities based in Europe, Japan and Russia.
"We want to be an effective information multiplier, a European network where people create, exchange, and have new ideas for reinforcing our collaboration at European level," said UnILiON Secretary Massimo Busuoli. "And we would like to represent a single-entry point to world of excellent universities, an easy door to complex organisations which normally are difficult to target."
Universities: Present and Future
Universities are navigating a fast-changing landscape, Horizon Europe missions must be open – and a strong relationship between education, research and innovation is essential to the future of Europe.
These were key messages as UnILiON's "Universities Fast Forward: Value in Diversity" event brought together EU policymakers and education leaders to debate the current and future role of universities, the international competitiveness of European higher education and funding under Horizon Europe.
"Comprehensive universities are in an ideal position to take the lead, because they are able to analyse the scientific world with a helicopter view across all disciplines," said Ignace Lemahieu, Vice Rector for Research at Ghent University in Belgium. "They can contribute to the dream that one day, a single set of rules will apply for Marie Curie, EIT, ERASMUS+ and the structural funds."
"Interdisciplinarity, together with entrepreneurial skills, are essential for solving future challenges. Technology alone is not enough," said Anne Borg, Vice President for Education, Norwegian University of Science and Technology. "We must acknowledge the link between education, research and innovation in seeking new solutions, and train students accordingly. And internationalisation and student exchange develop a global mindset that is crucial to solving global challenges."
Universities of Applied Sciences, meanwhile, can collaborate with SMEs to act as strong drivers for regional innovation, with research teams able to quickly respond to market and societal needs, said Ralph Blum, Vice President for Research at Nuremberg Tech. "The results are immediate product innovation, a fast-track to implementation, and well-educated graduates due to practice-oriented curricula."
Click to download the UNILION-Post Event Press Release