Aix-Marseille Université (AMU)
Aix-Marseille Université (AMU)

With nearly 80,000 students, including 10,000 international students and 120 research structures linked to the largest research organisations (Inserm, CNRS, IRD, INRA, CEA, etc.) and its 12 doctoral schools, Aix-Marseille University is a considerable asset in the service of regional development and beyond.
The A*Midex University Foundation, which carries the French "Excellence Initiative", contributes to the development of a world-class multidisciplinary and interdisciplinary higher education and research centre. Numerous successes within the French "Investments for the Future" programme attest to the dynamism of its research and training teams. Interdisciplinary and innovation are strong markers of its identity, both in terms of research and innovation.
Since its creation, Aix-Marseille University has been open to its environment and has deployed a bold policy of societal responsibility that has made it the leading French university in this field.
Aix-Marseille University is coordinating the European University "CIVIS, a European Civic University" with 7 partner universities across Europe. Based on the shared civic identities of its members, CIVIS brings together nearly 400,000 students and 55,000 staff together.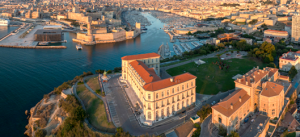 Aix-Marseille University was created on 1 January 2012 by the merger of the three pre-existing universities
Arts, Literature, Languages and Humanities
Law and Politics
Economics and Management
Health
Science and Technology
AMU has developed a joint-strategy with the major research organisations of its region (Inserm, CNRS, IRD, INRA, CEA, etc.) based on its numerous research units and federations and its five intersectoral and interdisciplinary research centres (PR2I):
Energy
Environment
Humanities
Health & Life Sciences
Advanced Science & Technology
Services of the Brussels office
Aix-Marseille University (AMU) has been the first French University to open a permanent EU Office in Brussels, since January 2016, AMU EU Office is located at the heart of the European quarter within the premises of Sud-Provence-Alpes-Côte d'Azur Region.
Attached to the Cabinet of AMU's President, the EU Office is internally responsible for:
Providing latest information on future EU programmes to AMU's research Units and Faculties
Providing research Units and Faculties with networking opportunities to increase their participation to European collaborative Projects
Facilitate contacts with EU institutions and accompany AMU's delegations during their visit to Brussels
Advising the Board and the Management of the University on EU programmes and European strategy
AMU Office in Brussels is externally in charge of
Increasing the visibility of AMU's potential in Education, Research and Innovation
Providing EU institutions with direct access to Research, Innovation and Education expertise from AMU
Lobbying on future EU programmes and funding opportunities
Main European programmes of interest: Horizon 2020 #H2020 / Horizon Europe #HorizonEU / Erasmus+ #ErasmusPlus / European Regional Development Fund #ERDF/ European Strategic Investment Fund #ESIF #InvestEU / #DigitalEurope / European Defence Fund
More information: https://www.univ-amu.fr/en/public/presentation-eu-office-brussels