Bogaziçi University
Bogaziçi University
Located at the intersection of Turkey and Eastern Europe, Boğaziçi University (BOUN) is a prominent research institution with a strong reputation in natural and social sciences, humanities, engineering, education, and applied disciplines. Founded in 1863, Boğaziçi is a member of the European Universities Association (EUA) and has had all its departments within the Faculty of Engineering accredited by the Accreditation Board of Engineering Technology (ABET) since 1998. 
Boğaziçi University comprises four faculties, two schools, and six institutes, offering 29 undergraduate, 67 graduate, and 33 PhD programs as of November 2021. Through its programs, Boğaziçi University is home to 15.000 Students. One notable institute within the university is the Kandilli Observatory and Earthquake Research Institute (KOERI). KOERI conducts essential research in seismology, geodesy, and geophysics, playing a crucial role in monitoring and studying earthquake activity in Turkey and the surrounding region.
BOUN actively participates in the European Commission's development policies, working towards a more sustainable, inclusive, and innovative society. In line with the European Commission's objectives, Boğaziçi hosts various Technology Transfer Intermediaries, such as a Research WebSite, Technology Transfer Office, Teknopark, KOSGEB/TEKMER, as well as 157 Research Laboratories and 32 Research Centers. These facilities enable the university to further its mission of fostering technological advancement and innovation by delivering high-quality, internationally recognized education and promoting applicable research activities.
One of the key research areas for Boğaziçi is Biomedical Technology, where the university actively supports the development of novel technologies and biotechnological products. The university provides expertise to spin-off companies, start-ups, and SMEs, helping them create innovative products in diverse sectors. Boğaziçi's state-of-the-art facilities, such as the Center for Life Sciences and Technologies, internationally certified Clean Room, and modular pilot production facility, are available for researchers and companies to utilise for prototyping and supporting research and development activities. Kandilli Observatory and Earthquake Research Institute, is a leading institution in its region, working in alignment with the European Commission's development policies to foster innovation, sustainability, and inclusivity across various disciplines, making a significant impact on local and global communities.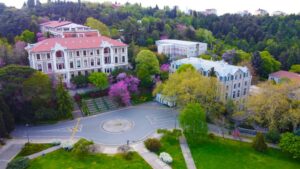 EU OFFICE
The Boğaziçi University Brussels Office focuses on several key areas to ensure the university's success and influence within the European Union:
Capacity Building:

Developing a skilled team, conducting needs analysis, providing elementary and advanced training, and offering year-round coaching to support faculty and firms.

Forging Networks:

Engaging with EU institutions, research institutions, universities, industry partners, professional networks, and policymakers to establish strategic partnerships and maintain a strong international presence.

Public Advocacy:

Ensuring effective public advocacy by fostering direct communication with EU institutions, building coalitions, screening and analysing policies, engaging in strategic policy advocacy, and continuously improving public advocacy strategies based on feedback.

EU Funding:

Actively pursuing funding opportunities through proactive call screening, crafting compelling expressions of interest, providing expert proposal drafting and coordination, fostering strong proposal support and partnerships, and offering reliable administrative support.