Alianza 4 Universidades
Alianza 4 Universidades
The Alianza 4 Universidades (4 Universities Alliance, A4U) is a strategic partnership between four leading Spanish public universities:
The association grew out of the desire of these four universities, which share the same commitment to quality research and excellence in teaching, to pursue joint projects. In 2008, the A4U was set up as an official alliance. Prior to that date, cooperation between the partner institutions had been governed by a general framework agreement, with specific agreements being arranged for each project.
The A4U's objectives include promoting the research conducted at the partner universities, primarily in Europe; raising their profiles and enhancing their international reputations by encouraging contacts in countries and areas considered to be strategic priorities; improving mobility options for students, teaching staff and researchers; and promoting quality teaching, with a clear commitment to interuniversity degree programmes, programmes in English and online training.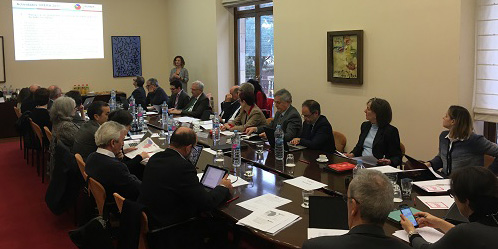 The A4U receives support from the Spanish government through agreements with the Spanish Institute for Foreign Trade (ICEX) and the Spanish National Research Council (CSIC). It was an active participant in both the founding of YERUN, the Young European Research University Network, and the launch of the IUNE Observatory, whose work contributes to the knowledge and analysis of the research and technological activity carried out in the Spanish university system. Finally, the A4U is a member of the boards of trustees of several organizations, such as the Spain-China Council, Spain-India Council, Spain-Japan Council and Spain-Australia Council foundations, which help to boost its international exposure.
Services of the Brussels office
Promotion of European Research Activities (Brussels Office):

To support the A4U and its researchers in their efforts to make their research more competitive at the European and international level.
To identify new policies and funding opportunities of interest to the A4U universities and their researchers.
To participate in and influence European R&D and innovation policymaking.
To provide personalized assistance and offer working spaces in Brussels to researchers participating in European projects.

International Mobility of students, researchers and academic staff
International Cooperation Agreements
Joint Programme: Bachelor Degree in Philosophy, Politics and Economics
IUNE Observatory:

To contribute to knowledge and analysis of the Spanish university system's scientific and technological activity.
To provide up-to-date and reliable information on various aspects of the research conducted at Spanish universities.
To develop a suite of variables and R&D and innovation indicators that accurately characterize the research conducted at Spanish public and private universities.
To enable the development of research profiles for each university.