Kansai University
Kansai University
Kansai University is a dynamic city university in Osaka, in the second largest metropolitan area of Japan, and one of the four leading private universities in West Japan. Kansai University has over 30, 000 students in 13 undergraduate, 13 postgraduate faculties and 2 professional graduate schools, further more Japanese Language and Culture Program preparatory school since 2012, and it offers a wide range of academic subjects covering the humanities, social sciences, natural sciences, technical and health sciences.  Kansai University, started 1886 as Kansai Law School in the middle of the economic center of Osaka city, and maintains as its founding principle the practical adaption of academic knowledge to social realities.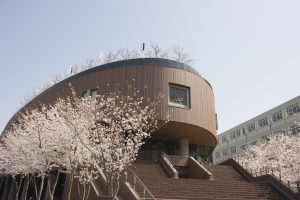 Kansai University is internationally oriented and is strengthening its position as a global network institution. This includes 200 university-wide international partnerships and 6 overseas offices.
Kansai University promotes global education. In 2014, COIL (Collaborative Online International learning) was first introduced to our university in Japan. The COIL method gives us global learning worldwide opportunities by online communication (Read more about COIL). Since then, Kansai University has expanded the KU-COIL network with overseas universities in Taiwan, Korea, Malaysia, Mexico, China, Brazil, Tanzania, Indonesia, etc. Kansai University is also actively promoting DX and has been selected for a grant from the Ministry of Education, Culture, Sports, Science and Technology in 2021. It connects the five campuses of Kansai University as well as universities in Japan and abroad to expand education and research activities on a global scale.
The Kansai University Japan-EU Research Center was established in 2006 at the University of Leuven, Kansai University's longtime partner institution in Europe as commemoration of the 120th anniversary of Kansai University. In the first decade the Center held a "Japan Week", a cultural and educational event in which not only students and faculty members of the both universities but also citizens of Leuven could participate. Its mission is now turning to the role of European Liaison office especially for joint research between Kansai University and the University of Leuven. This Center aims also to strengthen the partnership of Kansai University with EU and support the organization of international conferences and symposia at the Leuven University.
Services of the Japan-EU Research Center
Support joint research and academic exchange between Kansai University and Universities in Europe.
Promote research in Japan and European communities.
The role of liaison office for exchange researchers and students in Japan and Europe.
Promote mutual exchange between Japan and Europe.
Increase the visibility of Kansai University in Europe.