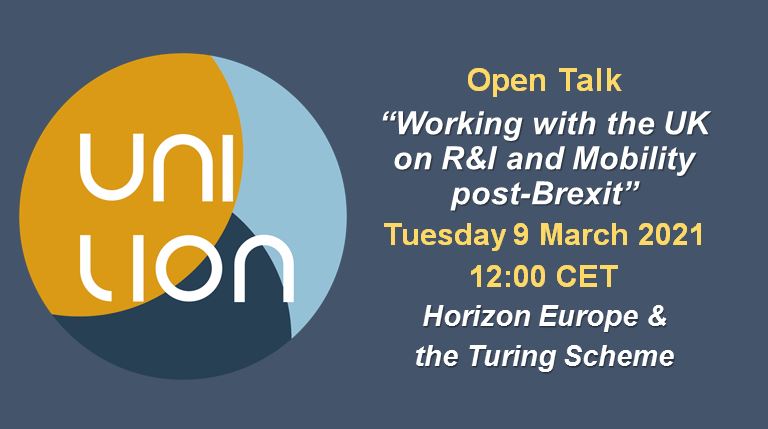 Working with the UK on research & innovation and mobility post-Brexit
Working with the UK on research & innovation and mobility post-Brexit
On Tuesday 9 March, UnILiON organised an Open Talk on 'Working with the UK on Research & Innovation and Mobility post-Brexit'.
The wide-ranging EU-UK Brexit deal agreed on Christmas Eve has a number of implications for Higher Education Institutions, but universities on both sides of the Channel have arguably been most keen to understand what it means for the UK's relationship with the new EU funding programmes.
The Open Talk provided an opportunity for an update on the UK's association to the EU's main funding programme for R&I, Horizon Europe, which is foreseen in the Brexit deal, and an introduction to the Turing Scheme, the UK's new global programme to study and work abroad.
It brought together nearly 150 attendees from across Europe and an expert panel of speakers from the UK Mission to the EU, UK Research Office (UKRO), Department for Education and British Council to discuss the opportunities for European partners to work with UK universities via both programmes.
The UK is expected to associate to Horizon Europe before the 1st grant agreements are signed, meaning UK entities are fully eligible to participate from the 1st calls. The Turing Scheme  will facilitate outward mobilities for UK organisations, and give the opportunity for international organisations to set up reciprocal exchanges.
Further information on the UK's participation in Horizon Europe and the Turing Scheme is available via the links and presentations below.