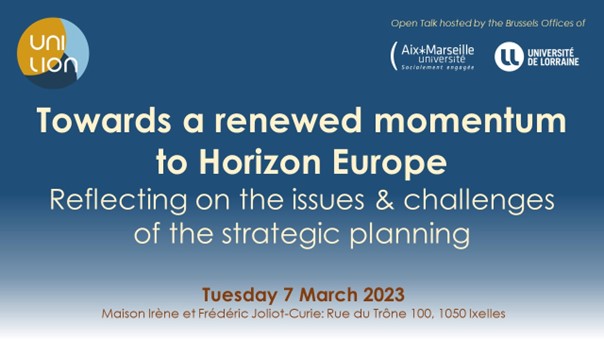 Towards a renewed momentum to Horizon Europe: reflecting on the issues and challenges of the strategic planning
Towards a renewed momentum to Horizon Europe: reflecting on the issues and challenges of the strategic planning
On 7 March 2023, UnILiON Member Offices held an Open Talk with Mr Massimiliano ESPOSITO, Head of Unit "Common Strategic Planning and Programming Service", Common Policy center, of the Directorate-General for R&I of the European Commission.
The topic of the session was "Towards a renewed momentum to Horizon Europe: reflecting on the issues and challenges of the strategic planning" and it was hosted by the Brussels Offices of Université de Lorraine and Aix-Marseille Université.
This year will see important developments for the 9th framework programme for research and innovation as the European Commission is coordinating a large consultation process, involving stakeholders, Member States and the European Parliament.
Numerous UnILiON member universities submitted position papers and took part in the vast consultation launched by the Commission that closed on 23 February 2023. In particular, the UnILiON Horizon Europe Working Group is a vibrant community where members share their views and experience about the framework programme, providing significant inputs in the consultation.
This open exchange with the Head of Unit responsible for the strategic planning and programming was an opportunity to reflect on the strategic challenges and issues of the Horizon Europe Strategic Plan for 2025-2027. Members also raised specific issues, such as simplification of Horizon Europe, budget, synergies, the pilot for blind evaluation, etc.